UNLOCK YOUR IKIGAI DURING THIS LOCKDOWN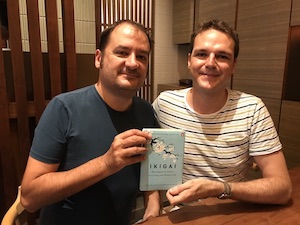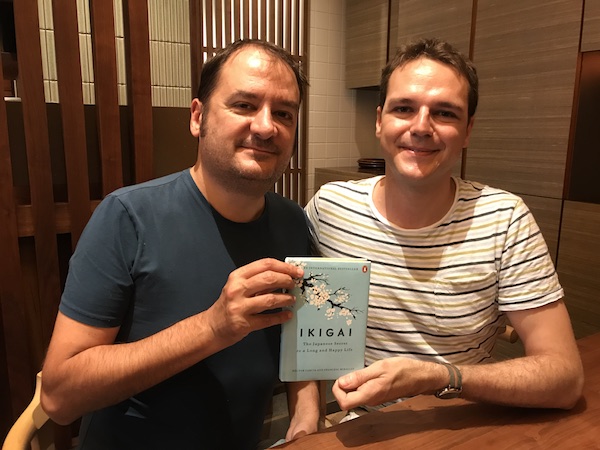 What a year this has been so far! When you started 2020with the usual resolutions and plans, did you prepare for the situation you are in today? Did you imagine that a word you never cared about much would be the one you would hear every single day? Most likely not. But here you are facing the most unimaginable side effect of a deadly virus: a lockdown. You are basically locked inside your home, barely stepping out. Perhaps this is the time to unlock your ikigai. This is perhaps the best time to look inside, refocus and find what drives you—your True North, your purpose in life: your ikigai. But what is ikigai?
WHAT IKIGAI IS
Ikigai is a Japanese concept, the English meaning of which is "the reason for being." It is what compels, inspires, or drives you to face a new day—the reason why you wake up in the mornings. It is composed of two Japanese words:iki, meaning life and gai, which defines value or worth. So basically it translates as what defines the value or worth of your life, what makes you feel alive. Ikigai is a lifestyle choice that helps you strike the perfect balance between the spiritual and the practical. It is the idea of happiness in life. The Japanese consider ikigai to be the secret to a long and happy life.
The Japanese believe that everyone has an ikigai—the reason to be happy in life. In Okinawa, an island in Japan, where ikigai originated, the average lifespan is 90 years and more than half the people are 100 years or older. The best part about these centenarians is that they are perfectly physically, mentally, and emotionally healthy, live mainly on a plant-based diet. Besides, lifestyle diseases such as diabetes, cancer, obesity and heart problems are almost non-existent in this island.These elderly Okinawans maintain a close-knit friends' support group they call moai; are purpose-driven; are ever curious; have a great positive, forward-looking attitude;enjoy the little things in daily life; live the fullest for the moment; and are ever learning new things. They do what they like everyday and in a calm and mindful pace, enjoying the small moments. Their ikigai helps them feel rejuvenated every single day without fretting over success and recognition. While most people are dying and will kill to succeed in their profession, Okinawans are busy living and succeeding at life—every single day.
Watch this clip from an online Author's Meet on World Book Day 2020:
Unlike the West that believes in material success, the Japanese believe that an enriched life is one that is full of series of small joys. Life is full of ups and downs, joy and sorrows. And ikigai helps you find joy even when things are not the best they can be. It's about finding out for yourself what you believe will give you fulfillment, joy and also help you live longer. So what is the concept, really?
JAPANESE CONCEPT OF IKIGAI
The Japanese concept of ikigai is the perfect confluence of four key elements: your passion or what you love; your vocation or the skills you are good at; your profession or the job you get paid for; and your mission or what the world needs. People in the West use a Venn diagram in which these four elements overlap.The center, where all four intersect is said to be where a person's ikigai lies—the spot which reveals where your passion and vocation merge with what you can be paid for yet what the world needs. So everyone's effort is to work their way to the center. The Venn diagram helps you identify what your ikigai can be.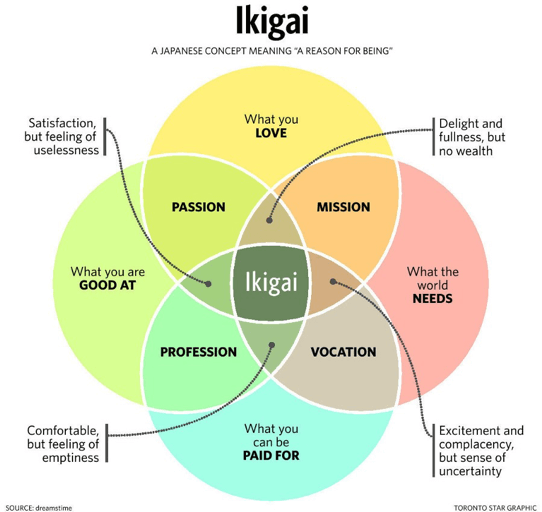 Source: dreamstime / Toronto Star Graphic
The idea is to make sure that you pay attention to all the circles and the overlaps to find the center. Because missing out on any one thing can leave you feeling, empty, useless, uncertain or without wealth.
While for those in the West, finding their ikigai becomes about finding a passion that involves turning a skill into a profession, which the world probably needs, for many Japanese, their ikigai is not necessarily tied with income. In fact very few Japanese considered money as a driving factor. They feel money may be important, but life was not limited to that alone.
Like Howard W Thurman, a philosopher and civil rights leader once said, you should not ask yourself what the world needs, but rather ask yourself what makes you feel alive because the world actually needs more people to feel alive. To find your ikigai, it's better to focus first and foremost on what makes you feel your best. Eventually that will somehow work its way to becoming what you could be paid for and what the world needs.
SEARCHING FOR MY IKIGAI
How do you search for your ikigai? As I mentioned before, in the West this search usually means find a passion to monetize. While most of the advice is to find and then follow a passion, it is quite likely that not everyone of you may have only one thing you are passionate about. It is also quite possible that what you are very passionate about does not pay. It is also possible that you may not always have the opportunity to pursue your passion. Also, for many of you it may be just hard to sit and think and think and think and try to discover what your passion is. So if you borrow the Japanese idea of finding happiness in the little things and finding balance and fulfillment in daily life, you may find your ikigai.
It might be a good idea to work from the outside towards the center (your ikigai) rather than start at the circles. Like I said start—the little things. There may be many things that give you joy, just cultivate and nurture those. Say you are working at a bank, but feel very rejuvenated when you come back home and write down a poem. It's what makes you feel happy and relaxed. Nurture this. Write every day, work at it, find ways to enhance it. Even as you work at the bank, which by the way pays your bills, you can build a bank of poems, which by the way might turn out to be your ikigai. Once you have a bank of poems, you could find someone to publish it. And with time you might end up being a poet whose poetry inspires others or gives joy to others. That begs the question: How I understand my ikigai?
Read about real life experiences of life coaching by Jasmin Waldmann here.
Contact us for positive change in your life here.
UNDERSTANDING MY IKIGAI
You could make your own diagram to start understanding your ikigai. You could start by asking yourself questions about what skills you are good at, what you enjoy doing, what makes you feel moved by, what you think is unique to you, what you believe will help more people, what you would like to change in the world or bring to the world and categorize the answers to these questions in the circles for passion, profession, mission, and vocation and fill in the intersections with whatever you feel overlaps. Be honest and open with yourself and try not to limit yourself. You do not have to do this in a single day. You can take your time and keep adding things as you go. Once you feel you are done, your ikigai will emerge, or at least the intersections that will lead you to your ikigai will become clear.
It does not matter what you are doing—cleaning buses, being a doctor, raising children, being a world-famous life coach, or a roadside painter. If what you are doing fulfills you and makes you find endless joy, that is your ikigai. So how does this answer the question: "Is it something the world needs? Does the world need cleaner buses, happier children, people living to full potential, moments of happy passers-by? If your answer is yes, then you have your answer. Does it answer your question: Is it something I can get paid for?" Do all of these passions pay money? Not necessarily. But do they pay in terms of the happiness you find. Yes. But can you get by all your life just cleaning buses and raising children? No. As I said earlier, your ikigai is not a constant, like life, it keeps changing. So it's important to find joy in the now rather than look forward to what would likely give you joy tomorrow and the day after.
You need not limit yourself to one passion because in doing so, you may neglect something else that makes you happy or you are good at. Keeping at one thing might make you end up being like a lab rat on a running wheel. By turning yourself off to other things that make you happy you run the risk of becoming depressed. Do not fool yourself into thinking that you have only one passion and one passion alone. Because if you do, you may end up feeling monotonous. Keep yourself open to experiences so that you feel alive not stuck.
That does not mean you will do a thousand things at the same time, flitting from one thing to another. That will not leave you with enough time to develop the thing you love the most. If you realize that you are equally passionate about many things, choose a few that make you feel alive, spend time on them, work on them and become good at them.
Lastly, live, do not merely exist. You can definitely get by doing the least that pays your bills, not doing anything to find joy in the things you do everyday, refusing to take up a hobby or something that takes you from one day to the next. But it is a sure way of finding life itself pointless after a while.
While most people make the mistake of resting everything on that one passion and separating it from everything else in life, everything we do is connected and if we cannot find joy in the little things and just hang on to our passion, we won't really find our center—our ikigai. Because ikigai is essentially a search for happiness, not a search for passion. If you look hard at the diagram, you will realize that everything is connected, one cannot be without the other. So focusing only on your passion may not help find joy.
IKIGAI CHANGES WITH TIME
Francesc Miralles, who co-authored Ikigai: The Japanese Secret to a Long and Happy Life, with co author Héctor García, believes that although for some people it may be just one passion for life, it is normal for people to have different passions. They could have three or four different Ikigais in different moments of life. It changes with time and circumstance. What you are passionate about in your 20s may not be what you are passionate about in your 30s or 40s or later. So it will help to reassess your ikigai from time to time. So keep referring to the diagram whenever you feel that you are falling into a rut or if you realize things have become monotonous.
Take for example, Julia Child. Did you know that she was in advertising, media and secret intelligence before writing her first cookbook at the age of 50, which launched her career as a celebrity chef? Or that Vera Wang was a figure skater and journalist before becoming a world-famous fashion designer? Or Ray Kroc was a milkshake-device salesman before starting McDonald's at the age of 52? Did you know that the company Wipro, which Azim Premji inherited in 1966, used to manufacture cooking oil and soap. Premji put his engineering degree to use and shifted focus to software in the 1980s. Today he is a well-known philanthropist and has a foundation that is focused on education in India.
CIRCLING BACK TO MY IKIGAI AND FINDING MY PURPOSE
Sometimes it is quite possible that you may feel lost and unsure about your ikigai. You can refocus your mind and purpose, to circle back to your ikigai.
García believes that changes can be difficult and one might feel blocked. In such a situation, it is good to add something new to life, like a new hobby, new friends, or even a new job. The idea is to "gain awareness of the current status of your life." A good way to do that would be to make a list of things you have invested time in during the week and then categorizing those under passion, profession, vocation and mission. This also helps put things in perspective and helps you reclaim your life.
In their book, Miralles and Garcia have put down 10 rules to help you find your ikigai. They are:
Stay active; don't retire.

Take it slow.

Don't fill your stomach.

Surround yourself with good friends.

Get in shape for your next birthday.

Smile.

Reconnect with nature.

Give thanks.

Live in the moment.

Follow your ikigai.
You will truly have found your ikigai if you do not measure your quality of life by money and success. The end goal of ikigai is about how you feel within. You do not necessarily have to be doing something lofty or global to feel good about yourself.
Remember that whatever you care about deeply can unlock your ikigai. With age and with time, people slip into a comfort zone and cease to look at new things. Almost all of those in Okinawa pick up newer hobbies and learn new skills, make new friends and are curious about what they did not know until that point in time. They are in awe of the new day and continue to have a sense of wonder: "What next? I am ready for it." It's about feeling proud and happy about yourself every single day and every single moment.
Have you identified your ikigai yet? If not, use this time to look within and find that one light that will lead you to a happier, more fulfilled life.
Let me know about it and comment here.
Love, Jasmin Waldmann
Jasmin Waldmann is a well renowned international Life Coach. She guides people of any age, occupation, gender or nationality to work on their charisma, inner balance, guides how to become more successful and boost mental and physical health – and this counts for business and private life. Jasmin helps in a team-character way to a life full of joy and satisfaction.
Share your feedback, questions, experiences and suggestions to office@jasminwaldmann.com and read more articles here: www.jasminwaldmann.com/blog