"We are one. Our bodies and our minds must work together or we can never achieve our full potential."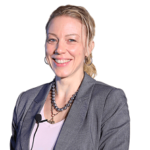 Jasmin Waldmann is one of the world's most experienced and successful Business and Life Coaches. Originally from Germany, she now lives in India and has been part of helping hundreds of Indian and international firms move to their fullest success.
Jasmin offers a unique approach. By training the mindset and the business sense of a corporation's staff, she's able to help everyone grow individually and professionally, which, in turn, grows the company. "The holistic approach to making a business great is to not just train 'business' skills but to train life skills into your people. If their life outside of work, including health, stress levels, and more, are out of balance, they can't perform well at work, no matter how well-trained they do their jobs."
International Life Coach
Jasmin Waldmann is the German coach who brought her life story, her life's perspective, as well as an immense amount of training, to the boardroom. Using a combination of life coaching and business coaching, a mind-body experience, she is able to help a professional team grow, individually and together. Her approach is simple and successful:
She helps others to understand themselves through her Life Coaching skills. This helps the individual to become stronger, overcome weaknesses, and blossom into a complete person.
Then, she applies her Business Coach skills to help forge a team. She's able to bring together a team of individuals into a Super Team of success-oriented, committed professionals.
Jasmin's Path
Jasmin was raised in a fatherless household led by her grandmother and her mother. Her primary caretaker, her grandmother, died when Jasmin was twelve years old. Her mother died one year later. In one short year, this young woman was set adrift without the role models and loving arms she'd grown up with. She went to school but didn't earn a degree. She was trained in a number of careers: a saleswoman, an accountant, a professional singer, even a dressmaker. She had many other experiences as well: from selling cars and shifting houses to renovating houses and secretary work.
At 19, she moved to Berlin and decided that it was time to change her life. She went back to school and graduated at the top of her class. She also underwent therapies, including several years of psychotherapy and a year of behavioural therapy. Outcome in short: They didn't really work. At a very young age, she enjoyed and was fascinated by any kind of physical activity and the mind. Later, after graduating from school, she found a way to merge her two biggest interests; she remembered her passion and understood her calling.
She attended a private university and studied health and wellness. After earning her diploma, she left for the US and afterward Australia- to study the health and wellness market there.
By 2007, after some time in the US and Australia, she returned to Germany to start her own company. While she studied to be a Sports and Health Trainer, she worked full time in a big gym. During that time she met for personal fitness training purposes a client who was an NLP (neuro linguistic programming) trainer. He coached her and helped her to finish the unfinished business in her past, to heal her scars, to understand who she truly is, and how she can become her true self.
Within a few months, she was cured and truly happy again, after 10 years of suffering. It was then that she understood her calling: helping people to help themselves and become who they truly are. She underwent several trainings and certifications in Germany.
Since she finished them, Jasmin is dedicated to teaching and coaching others to do the same.
She later combined that knowledge with a deep understanding of business to become a powerful business coach.
The Jasmin Waldmann Difference
Many people hire a Life Coach, someone to guide them to their own success and help them become stronger. Many businesses hire a business coach, someone to come in and try to forge a team and make the company stronger. Jasmin Waldmann, the German Coach, does both at the same time. She helps the individual to become stronger, heal themselves, and be more complete individuals. Those individuals, like the links in a chain, can then help the corporation become stronger by being stronger themselves.
"Learning to see a business as more than the sum of the individuals that make it up is a life-changing new perspective. We make a firm stronger and more profitable by making its people stronger as well. My view of being a life coach dovetails with my way of being a business coach to create a stronger team built of stronger people."